One of the most common calls I get is the most obvious one. How much is the cost for a Home Inspection (or commercial). And why wouldn't it be… we have our own perception of what a product should be, right? Here's the thing, there are so many choices and levels of experience, it's difficult to know!
How do I know if I'm getting a good inspection?
Quite frankly, there is more information than I can shake a stick at… but as a long time Certified Residential and Commercial Inspector I can tell you that…. it's really tough to know! I tell callers quite often that I sympathize with their task, they have a name or two, who to trust?
Here's my take on this… after 10+ years
What back ground does the inspector have? In California, there are no requirements to become a home inspector… period.
I'd offer that using an Inspector that is also a Licensed General Contractor has it's merits. Obviously, any reputable inspector doesn't offer repair services for the defects they've noted, that's not good business. I've been a General Building contractor in California for some time, I've been inspecting for well over a decade now. Now, some might say that you don't need a contractor's license to do a good inspection, and they would be right! Having said that if you are buying real estate, what credentials are verifiable? That someone joined an association? That's good, the available education is great and any serious professional should have a list of classes that he or she has taken.
Courses taken by any inspection company or firm should include (I've taken all of these and then some)
Electrical Inspection Courses
Heating and Cooling / HVAC system inspection courses
Foundation Inspection Courses
Roofing Inspection
Plumbing and Mechanical Inspection
Building Science – For example, can a building "leak" without a roof or plumbing leak? Yep! Sure can!
What else? How does an inspector document their findings? A Home Inspection Report, that's how, the link will take you to a sample of mine. A report should be fairly easy to navigate and understand, provide an unbiased, accurate description of the structure and defects contained within it. I'd look for a report that is broken down by Systems as well as room by room. If a defect exists in the living room, why not indicate where it is? If a new water heater is needed, hopefully that's noted in the Plumbing Section. Read through the report, get an understanding of the level of detail that inspector is providing and make an informed decision.
I'd suggest at minimum to review my thoughts as well as others, and make sure that you call your prospective inspector (or any service person) and verify that they the person answering the phone is both professional and easy to communicate with. If that person is difficult now, what about later?
Thermal Imaging. Honestly… Don't get an inspection for a Home or Commercial Building without it. Seriously.
I've only used this technology for less than a year, and in my opinion, unless my equipment was broken, I wouldn't perform an inspection without it. Even then, I'd suggest scanning with a moisture meter and returning to site as soon as possible.
Can you see the leak in this closet? These types of leaks can due to plumbing or other problems, costing THOUSANDS of dollars!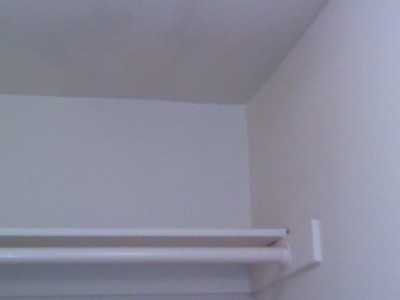 You can't see it can you?? Neither could anyone else (including myself) until I had scanned with my Infrared Camera.
NOW YOU SEE IT!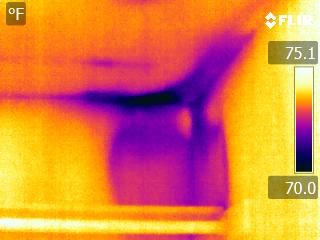 Anyway, I'll post more tips or if you have questions/comments. Let me know.
Summary
Article Name
How to know if you're getting a complete home inspection
Description
Points to consider when hiring a home or commercial inspector, written by an Inspection Professional.
Author