First Rains in a long time appear in Los Angeles County
Well, it's raining in Southern California today, the first time in a long time. Did you know we've had one of the driest years in almost a 100 years? What does that mean to a property owner? What should a building owner do?
It's Raining and your roof leaks, did you maintain it? When was the last time it was inspected?
I'd imagine that for many of us the answer is NO. Part of human nature says that if it's not a problem, why do I need to worry about it? Many building professionals recommend annual roof inspection and maintenance, OK, some may say only every two years.. where do you fit in? If your roof leaks today and you've done nothing to take care of it, who do you have to blame? Did you know much of the time even your homeowner's insurance will fix the damage but not the problem? Why do you think that is? Because as a property owner, you are expected to take care of it!
Common sources of Roof Leaks in the Antelope Valley Palmdale Lancaster Santa Clarita
Slipped or cracked roofing tiles that exposed the felt paper or roofing membrane, this happens regularly, and I mean It's unusual for me to not find this common leak source
Gaps or unsealed voids around plumbing and heat vents – Common as white bread, I'd say. And can recur even seasonally. This includes plumbing vents, heat vents, chimney crowns and metal termination caps.
Damaged or missing composition shingles – Be it by high winds in the Antelope or Santa Clarita Valleys, UV / Sun exposure etc, your shingles, ridge caps get damaged and left un-inspected and un-repaired, you are subject to leaks!
Damaged or degraded felt paper under any type of roofing leaves it subject to leaks. Guess what! This is tough!

You can't see the roofing membrane under a roof of 

any type

. But if it rains hard enough, you've got a problem!
You get my point, I'm sure! I'm going to guess that there are right now, as we speak on November 21, 2013 a lot of people that have leaks, drips and what not and don't know what to do! Or more important… it's raining and YOU DON'T HAVE LEAKS, if you haven't had a roof inspection in the last year, call me, call a roofer, call somebody and avoid the ensuing disaster and protect your investment!
OK, I'll bite Tim – What should I do right now?
Have a complete roof inspection and thermal inspection of the home after a rain... seriously! The charge for a roof inspection and scan below roofing areas can reveal

Serious roofing problems – Maybe you have a leak, and want to know what to do next.
Small Leaks and over-due maintenance.  I'd say most of us fit in here! If you own a home or commercial building and can't remember following an inspector's recommendation for repairs OR don't know the last date of inspection. GET AN INSPECTION.
If you are having a problem right now, call me or call a roofer. My service includes a physical inspection of roof and thermal imaging scan of areas below, while I don't repair roofs, I can give an unbiased review of the current installation and note where any wet areas are, which may be helpful for tradespeople to know and if very wet or a lot of damage, to document for your homeowners insurance or their adjuster. Having all your ducks in a row makes sense!
Here's a pic of a moisture leak, most of my customer's didn't even realize they had a leak.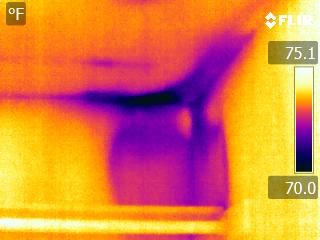 At the end of the day, I'm guessing a lot of hidden, unknown problems are going to rear their ugly heads… My advice, be proactive and get regular inspections and maintenance of your property, today!
Summary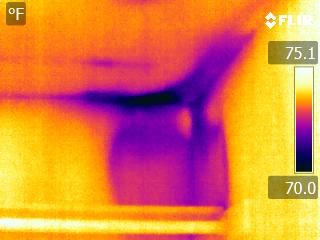 Article Name
First rain in a long time Los Angeles County
Description
It's the first rain in a long time here in Los Angeles County, of which I work in Antelope and Santa Clarita Valleys (Palmdale Lancaster etc), as we've had one of the driest years on record, lots of problems are bound to pop up. What to do next?
Author