Thermal Imaging for Home and Commercial Inspections

Moisture Intrusion Water Leaks Home Inspection
What is thermal imaging? how will it help me?
Thermal (or Infrared) imaging is a non-invasive, non-destructive way of evaluating conditions when performing a home or commercial inspection. Defects such as moisture / water defects from roof and wall leaks, overheating and unsafe electrical defects, air leaks, missing insulation all can affect the surrounding temperature, Thermal / Infrared imaging / photography can reveal these and other issues that just cannot be seen by the naked eye or with conventional or digital photography. Many of these type of defects will not be seen with the naked eye… we're only human, technology helps us do a BETTER JOB.
Some scans with a paid inspection ! Included with your paid inspection are:
Electrical Panel Inspection – Hot Spots / Overheated conditions

Under Tubs, Sinks and Showers in 2 Story Houses (Water and HVAC systems must be on and working)
HVAC / Mechanical System Scan
Full Infrared Services for a separate or additional fee (examples below) also available, additional costs apply. Considerations for time of day and other preparations are needed, call us to discuss how we can help!!
Flat Roof Infrared Imaging Scans done – Does your Commercial Flat Roof or Residential Roof Leak?
Moisture Intrusion and Leaks – Does your home or office / industrial building leak, we can scan to locate and confirm leaks with High Resolution Infrared equipment and industry standard moisture meters.
Electrical Panel Scans / Predictive Maintenance – Have you had your electrical panels scanned? Do you have defects that have not yet become visible or notable. Electrical scans performed by Tim Spargo, Level 1 Thermographer and State Licensed Contractor.
Missing Insulation / Energy Loss – Do you have leaking ductwork, missing insulation, unsealed gaps robbing you of your energy dollars? Call us for help!
A better job helps you uncover defects and save money! 
Thermal Imaging Services by:
Tim Spargo / Spec Rite Inspections
Building Envelope and Systems Thermographer / Infraspection Institute

Level 1 Thermographer – Infrared Training Institute (Flir) 
Infraspection Institute Standards of Practice Used | American Society of Nondestructive Testing, SNT-TC-1A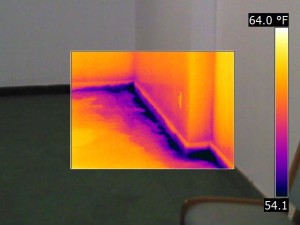 Thermal Imaging used to easily identify where defects are!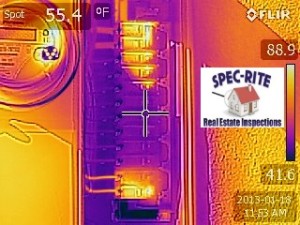 Electrical Defects easily revealed!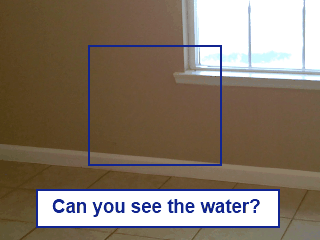 Moisture not visible to Naked Eye